Bike Speakers Reviews | FEDOG Bluetooth Bike Speaker And Front Light (F-368)
This is a bluetooth speaker / front light combo device for the bicycle handlebar.
This handlebar mountable bike speaker has these key features:
36mm Mono Speaker
Built in Radio/MP3 playback Function.
Bluetooth Connectivity
Connects with cell phone for hands free call and other applications.
Bicycle Front Light
3 light modes (Strong, Weak, Flash).
Waterproof Aluminium Casing
No worries about the device getting wet in the rain.
USB Rechargeable Battery
2600mAh, estimated 5 hrs.
We used this speaker/light combo on our bicycle and our electric scooter.
The Plus:
Loud Speaker
Sufficiently loud volume to hear your music while riding.
Bluetooth Connection
Besides hands free calling, you can also connect to internet radio channels via your mobile phone for more entertainment options.  When connected to a navigation application on your cell phone, this speaker amplifies the directional instructions, thus makes it easier for you to navigate to new destinations.
Bicycle Front Light
Good brightness.
Handlebar Mount
The handlebar mount is rotatable.  You can choose to mount on handlebar or the vertical stem of a kick scooter.
Other Usages
We thought this combo device can also be useful as part of an emergency kit.  It is a torch light to use in a blackout situation, its built-in radio can be used to tune in to any emergency news on broadcast.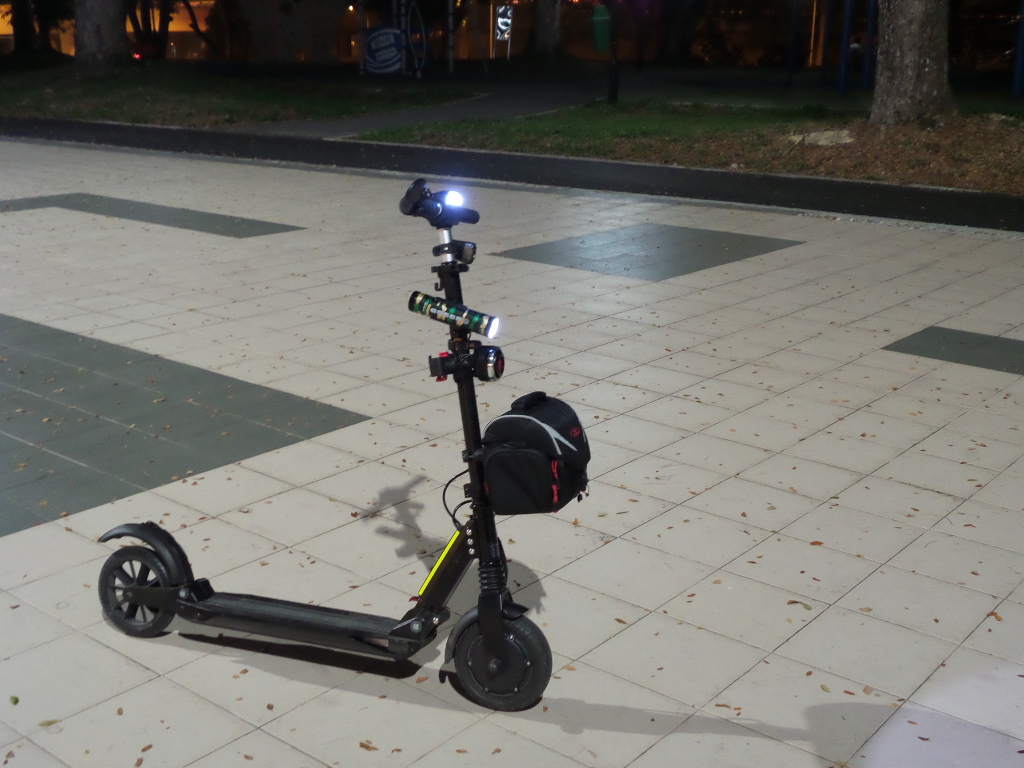 The Not So Ideal:
Narrow Light Beam
Some users might find the light beam slightly narrow.  The beam width is not adjustable.